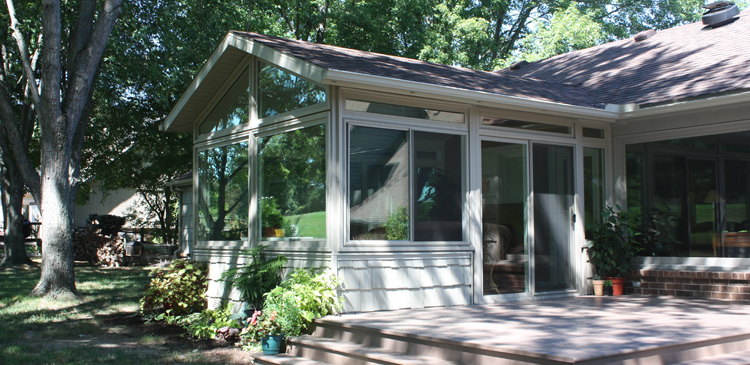 At S.E. Wisconsin Sunrooms, we care about the longevity and quality of your purchase. Because of this, we offer thoughtfully-engineered Transitions sunrooms by Living Space.
These home additions are built with the most superior materials on the market, ensuring they'll look good as new and perform at maximum efficiency for decades!
TRANSITIONS ROOM INSPIRATION
Check out some of our past Transitions sunroom installation projects!
A Transitions sunroom will not only improve the aesthetic appeal and energy efficiency of your home, it will also increase its overall value. Because it's crafted using superior products and smart design, it will retain its value for over 20 years. We understand that your home is one of your biggest investments, so we want to ensure the addition we build is beneficial in every imaginable way.
SOUTHEAST WISCONSIN TRANSITIONS SUNROOMS
Our Transitions sunrooms are a great investment for your home. They'll improve the décor and performance of your home while giving you a naturally-lit space to relax and enjoy the beauty of the outdoors. They're built using all of the following:
Superior Materials: Transitions sunrooms are built with a high-temper aircraft aluminum alloy with ribbed reinforcement. This material is used to build load-bearing walls that can withstand Wisconsin's heavy snowstorms. Additionally, they include PVCu cladding and profile insulation and Low E glass to keep the space nicely insulated and block damaging UV rays.
Superior Engineering: Built with an interlocking connection system made of structural fiberglass-reinforced amylogen composite materials, Transitions sunrooms are stronger and more stable than most other options. This space-age material creates a strong joint that reduces expansion and contraction. These sunrooms are also designed for flexibility, accepting all kinds of additional features, including lighting, accents, ceiling fans, window treatments and "doggie door" panels.
Superior Manufacturing: Each Transitions sunroom is individually designed using CAD software. There are no stock sizes or mixing and matching; the parts are precision-fabricated in a controlled environment. Every fabricated piece is labeled and logged into a tracking system to make sure they're accounted for. As a result, Transitions sunrooms are incredibly easy to install and can be constructed in as little as one week.
Get started on constructing your brand new Transitions sunroom today. Contact S.E. Wisconsin to learn more about how you can benefit from our innovative products. Call us or fill out our online form to schedule a free design consultation and receive your free quote!