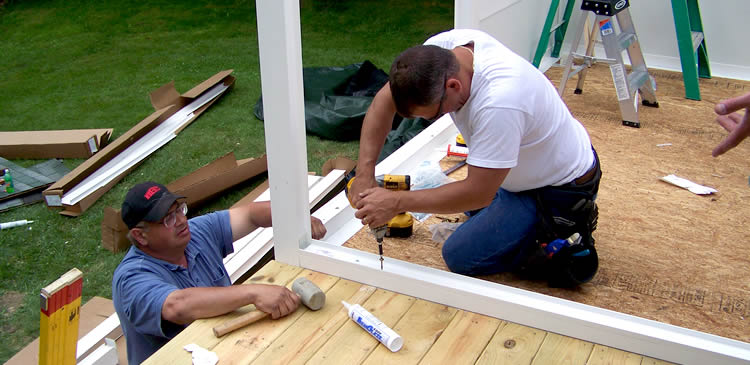 FONTANA SUNROOM ADDITION
Enjoy year-round outdoor living with a stylish sunroom offered by S.E. Wisconsin Sunrooms—the most trusted name for quality and value.
There's no question that Fontana is a beautiful, scenic Wisconsin city, and making the most out of the outdoors is a top priority for residents throughout the region. As the first choice for Fontana sunroom additions, S.E. Wisconsin Sunrooms offers high-quality sunrooms and enclosures that bring the beauty of nature right into your home.
ALL SEASONS ROOM
A four seasons room is the ideal way to bask in the natural light and scenery of Southern Wisconsin, and S.E. Wisconsin Sunrooms can design a custom home addition with the following innovative features:
Three, fully-customizable sunroom models
Extreme energy-efficiency to save you money
High-performance fiberglass window frames
Eco-friendly construction and sunroom installation
Low E glass systems to block harmful UV rays
THREE SEASONS ROOM
Adding a three seasons room to your home creates the perfect place for entertainment or relaxing on a warm evening. Whether your goal is to add more living space or improve natural light and ventilation, we offer the following custom sunrooms to suit your needs:
Screen Rooms that offer up to 75% ventilation for a cool, comfortable environment.
PATIO ENCLOSURES
Your home already has a patio, so why not turn it into a relaxing showpiece that you love spending time in? With S.E. Wisconsin Sunrooms, installing patio enclosures is easier than ever before, and we are proud to offer high-quality products that provide numerous benefits:
Superior weather resistance
Pleated Screen Systems
Variety of knee wall and roof options
WHY CHOOSE S.E. WISCONSIN SUNROOMS
Over 40 years ago, S.E. Wisconsin Sunrooms began its mission of providing top-notch sunrooms to residents throughout the great state of Wisconsin. We specialize in custom sunrooms and patio enclosures that are designed to the exact specifications of our customers, and we work with leading brands for guaranteed quality, including LivingSpace. When choosing Fontana sunrooms for your home, there's no better choice than S.E. Wisconsin Sunrooms to help you get the most out of your home addition project. Contact us today for a free quote.