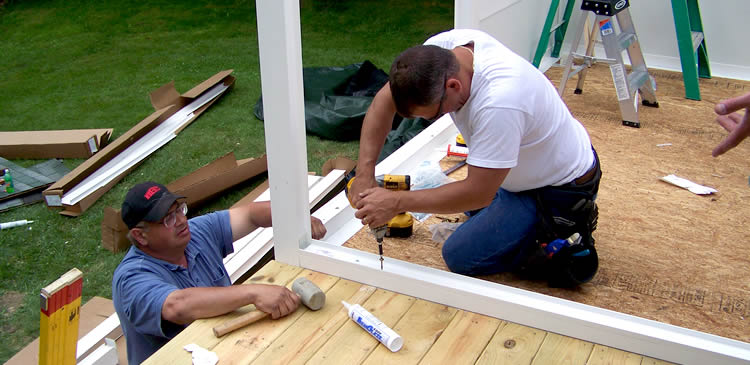 Franklin Patio Enclosures
FRANKLIN PATIO ENCLOSURES
If you're fortunate enough to have a patio around your Franklin home, you likely use it for a variety of purposes: to gather with friends, to relax with a cup of coffee in the morning, or to simply enjoy the Wisconsin sunset. While a standard patio can be used in fair weather, patio enclosures from S.E. Wisconsin Sunrooms will take your home to the next level—letting you enjoy your outdoor space in any season!
KEEP OUT INCLEMENT WEATHER WITH A BEAUTIFULLY ENCLOSED PATIO
At S.E. Wisconsin, our locally owned sunroom remodeling company has been working in the Franklin area for more than 40 years now. These decades of experience have taught us one important fact: because every family is unique, no two Franklin patio enclosures should ever be exactly the same! To ensure that your newly enclosed patio meets your household's specific needs, we'll work with you to design the structure completely from scratch—no straight-from-the-box or one-size-fits-all features, just a beautiful patio enclosure that's made for you.
Our goal is to provide a comfortable space that your entire family will enjoy, and we're proud to achieve this goal by offering the following customer-first amenities:
Extensive Selection: For your enclosed patio in Franklin, you can choose between several distinct types, including DIY porch conversion kits, and professional screen or glass patio enclosures.
Expert Installations: Our patio enclosure installers are fully qualified and trained, and they can be trusted for flawless installations done in as little as three days.
High-Quality Materials: All of our sunroom additions are crafted from some of the most durable, energy-efficient materials on the market today, like triple-ply, fiberglass-reinforced pultruded polyurethane.
Protective Warranties: An enclosed patio can be enjoyed rain or shine for decades to come, something we guarantee through a premium long-term warranty!
GET STARTED WITH A FREE COST ESTIMATE FOR FRANKLIN PATIO ENCLOSURES AND SUNROOM ADDITIONS
If you'd like to fully enjoy your home without worrying about the weather, contact S.E. Wisconsin Sunrooms to learn more about our patio enclosures and sunroom additions for Franklin homes. Call us or fill out our quick online form to request your free cost estimate now!