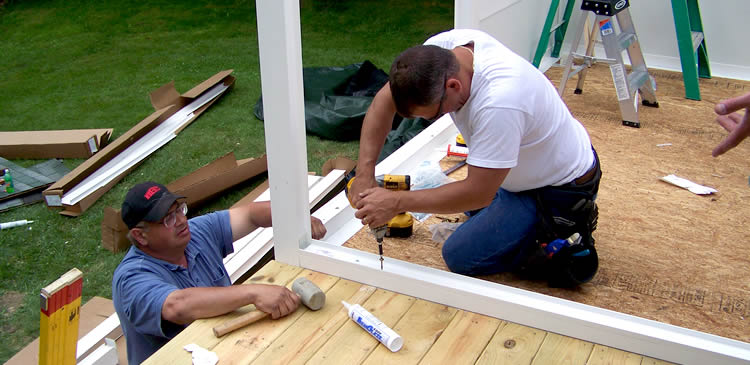 GREENDALE SUNROOMS
Building Sunrooms in Greendale for over 40 years, give us a call to start a conversation about your dream sunroom.
Greendale was constructed as a result of Franklin Delano Roosevelt's New Deal. Building the town created jobs and helped stimulate the economic recovery following the Great Depression. At S.E. Wisconsin Sunrooms, we're proud to serve this village, providing its residents with high quality solutions that increase the value of their homes and provide them with a lifetime of enjoyment. As a member of the National Association of the Remodeling Industry and a BBB-accredited business, our Greendale sunrooms company is a proven installer of high quality products.
Working with leading brands like Living Space Sunrooms, we carry some of the most durable and energy efficient products on the market. Whether you want your knee walls and frames made out of EcoGreen materials to keep your space insulated or Low-E glass that allows your room to fill with light while blocking damaging UV rays, we can implement it for you. When all is said and done, you'll have a safe and comfortable Greendale sunroom where you can enjoy the outdoors all year round.
GREENDALE ALL-SEASONS ROOMS
We'll allow you to handle the design of your Greendale sunroom and will encourage you to make it as unique as possible. We offer a wide selection of window, door, knee wall and roof options to choose from, so you'll easily be able to craft something that matches the décor of your home and meets your needs. From smooth-operating sliding doors to large picture windows that give you a crystal clear view of the outdoors, we have what you need to make your room turn out as envisioned. We also offer the following additional features:
Lighting Accents
Ceiling Fans
Window Treatments
Phone/Internet Connections
Opaque Wall Sections
"Doggy Door" Panels
Electrical Outlets
HVAC Systems
And More!
When choosing S.E. Wisconsin to handle your project, rest assured you couldn't have put it in more capable hands. Our staff is incredibly skilled and experienced, only taking a matter of weeks to complete most installations. They'll work diligently to execute a quick and efficient job, all while not disrupting your day-to-day routine.
If you're ready to reap all of the benefits that come with a Greendale sunroom, contact S.E. Wisconsin today. Give us a call or fill out our online form to receive your free design consultation and quote!