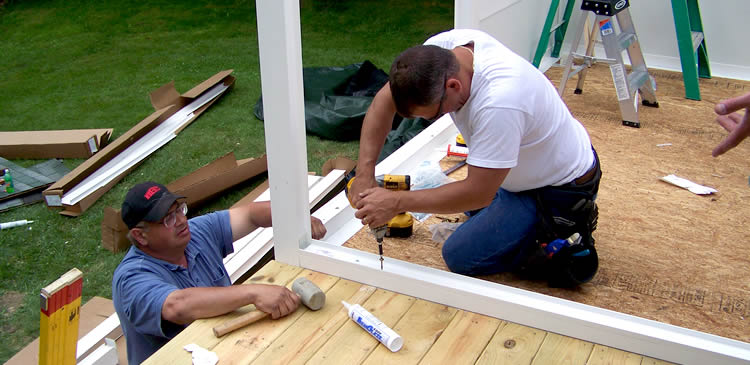 GREENFIELD SUNROOMS
A popular commuter suburb of Milwaukee, Greenfield is an area we've served for over 40 years. We've installed our unparalleled solutions in homes across this city, providing its residents with rooms in which they can paint, read, write and relax in.
As a premiere dealer of LivingSpace sunrooms, we use the best products the industry has to offer. In a matter of days, we'll have your new home addition finished and ready for use. It's this efficiency and quality that makes us the leading Greenfield sunrooms company.
We'll start with a comprehensive design consultation, allowing you to voice your opinion and take control of your project. From there, we'll draft a 3D blueprint based off your specifications, giving you a 360-degree view of what your finished product will look like. Once that's handled, our staff will quickly and efficiently erect your Greenfield sunroom, keeping you informed of important project updates along the way.
GREENFIELD ALL-SEASONS ROOMS
We're devoted to your complete satisfaction, so we provide you with a slew of window, door, knee wall and roof options to choose from. We can even make your Greenfield sunroom look like a part of your home's original construction, using the same sidling and roof materials to give it an integrated look. If you can dream it, we can do it, so don't hesitate to come to us with any unique requests! Some additional design options we offer include:
Lighting Accents
Ceiling Fans
Window Treatments
Phone/Internet Connections
Opaque Wall Sections
"Doggy Door" Panels
Electrical Outlets
HVAC Systems
And More!
We pride ourselves on the performance of our solutions. We only use the most energy-efficient materials when crafting your Greenfield sunroom, applying your choice of fiberglass, wood or vinyl window frames to prevent the transfer of heat and keep it insulated. Additionally, we use Low-E glass to allow natural light to beam into your room while blocking furniture-fading and skin-damaging UV rays. We guarantee that your new addition will be your favorite room in your house, providing you with a comfortable indoor space to soak in the beauty of nature.
Are you considering installing a sunroom or patio enclosure in the near future? Contact S.E. Wisconsin today to learn more about how our solutions are superior to the competitions'. Give us a call or fill out our online form to schedule a design consultation and get started on your Greenfield sunroom!