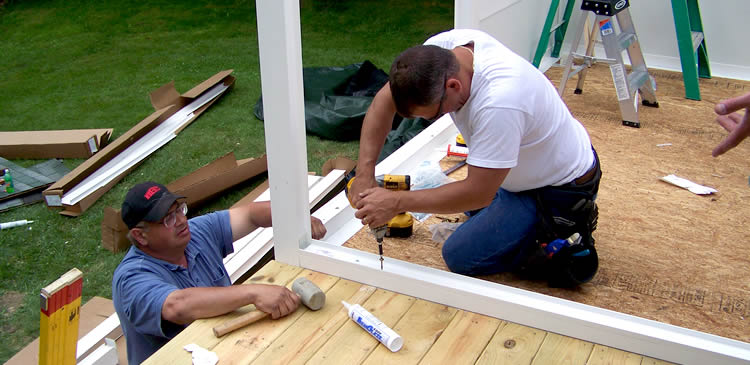 KENOSHA PATIO ENCLOSURES
Are you tired of having your outdoor plans ruined by poor weather conditions? Rather than constantly adjust your plans, why not create a space that's protected from Mother Nature year-round? With the Kenosha patio enclosures of S.E. Wisconsin Sunrooms, you can create a cozy, weather-protected space that not only seals out wind, rain, pests, and other outdoor nuisances but enhances your property's curb appeal as well!
BENEFITS OF AN ENCLOSED PATIO FOR KENOSHA HOMES
Whether you want a simple space to relax in relative privacy or a fully featured, lounge-like environment for friends and family, an enclosed patio can offer any kind of functionality you seek. In fact, we at S.E. Wisconsin can guarantee a highly practical yet beautiful result because we custom-design each and every one of our patio enclosures! Unlike a typical sunroom remodeling company in Kenosha, we specialize in from-scratch designs that are geared toward our clients' every desire.
In trusting your patio enclosures or other sunroom additions to us, you can expect start-to-finish satisfaction for a number of reasons:
We offer a wide array of patio enclosure options, including professional installations of glass or screen panels as well as DIY porch conversion kits.
Compared to many companies in Kenosha, patio enclosures from S.E. Wisconsin are far more durable. For example, instead of standard aluminum, we use a triple-ply, fiberglass-reinforced polyurethane!
If you choose a glass-enclosed patio design, we'll install cutting-edge low-e glass that helps block damaging UV rays and keep your energy bills low.
Our certified remodeling professionals can have our patio enclosures and other sunroom additions fully installed in as little as three days.
We'll support your newly enclosed patio with a lifetime warranty!
READY TO ENJOY YOUR OUTDOOR SPACE? GET A FREE QUOTE FOR YOUR ENCLOSED PATIO
S.E. Wisconsin Sunrooms has been installing customized patio enclosures in Kenosha and the surrounding areas for more than 40 years, and we'd love to bring our expert craftsmanship to your home next! Call us or complete our simple online form, and we'll set up a free, no-pressure cost estimate in the comfort of your home.