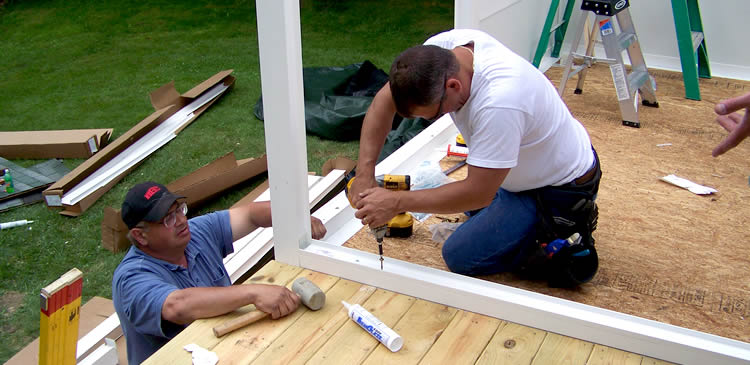 Menomonee Falls All Season Room
MENOMONEE FALLS ALL SEASONS ROOM
For over 40 years, S.E. Wisconsin Sunrooms has been serving this area, providing its residents with outstanding solutions that allow them to enjoy the beauty of nature from the comfort of the indoors
In a beautiful, nature-filled town like Menomonee Falls, why not take advantage of the scenery around your home with an all season room? Using only the highest quality products and materials on the market, S.E. Wisconsin Sunrooms will build you the Menomonee Falls four season room that's perfect for you and your family to enjoy the outdoors, indoors. We are a local company based in Brookfield, serving Menomonee Falls homeowners and the surrounding areas. With top-quality products from industry-leading brands like Living Space Sunrooms, we'll give you the gorgeous, energy-efficient and naturally-lit Menomonee Falls sunroom you've always dreamed of.
BEAUTIFUL FOUR SEASON ROOM RENOVATIONS IN MENOMONEE FALLS
At S.E. Wisconsin Sunrooms, we care about your business. Our number one goal is 100% customer satisfaction, and so our expert contractors will go above and beyond to guarantee you're happy with your new Menomonee Falls all season room. When you choose us as your sunroom contractors, you'll have full control over the design of your new space, as well as complete customization over a wide range of window, door, knee wall, and roof choices. You'll also be able to choose from any of these additional features:
Lighting Accents
Ceiling Fans
Window Treatments
Phone/Internet Connections
Opaque Wall Sections
"Doggy Door" Panels
Electrical Outlets
HVAC Systems
And Much More!
Adding a beautiful new four season room to your home has never been easier or more pleasant. At S.E. Wisconsin Sunrooms, you'll interact with our friendly, professional staff, who will provide you with a free design consultation before drafting a 3D blueprint for your inspection, based on your specifications. Each item used for your new sunroom will be specifically factory fabricated for your project before it begins, to ensure your new space is ready for you to enjoy as soon as possible.
So what are you waiting for? Start enjoying more of Menomonee Falls from the comfort of your home – give our experts a call or fill out our online form to schedule your free quote today!