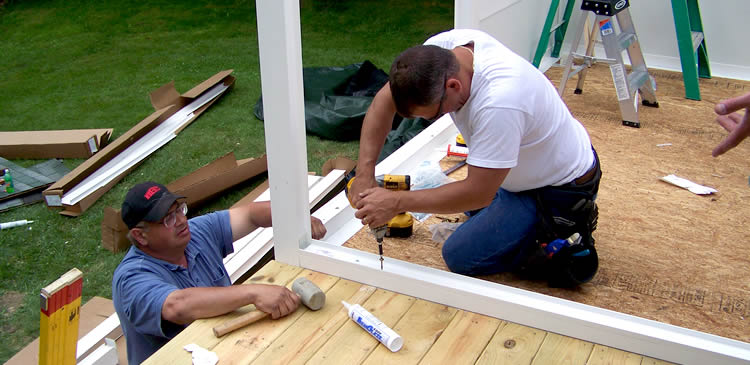 Menomonee Falls Room Additions
MENOMONEE FALLS ROOM ADDITIONS
For over 40 years, S.E. Wisconsin Sunrooms has been serving this area, providing its residents with outstanding solutions that allow them to enjoy the beauty of nature from the comfort of the indoors.
Do you have an ideal sunroom in mind? Are you searching for extras, such as tiled floors and built-in HVAC systems? Create the space that you have always wanted with a customized room addition from S.E. Wisconsin Sunrooms. Based in nearby Brookfield, WI, we have been serving homeowners throughout the area for over 40 years. Our skilled team of designers and contractors works closely with you to build a room addition that gives you more floor space and satisfies your every wish.
ADD A ROOM WITH CUSTOM FEATURES
As a Menomonee Falls home remodeling company, we're able to renovate, rebuild, and add onto almost any home. Our friendly designers can show you how during that all important first free, in-home consultation. We'll go over your ideas for a room addition, take some measurements, and even show you a range of our style and design options.
What are some of the many available style options when you choose to add a room onto your home?
Lighting Accents
Ceiling Fans
Many Window Styles
Glass Treatments
Electrical/Phone Outlets
Wood Paneling
If you choose to move forward with your add-on, we'll create a custom design using CAD software. Once approved, all of the pieces for your addition are pre-cut using CNC computer controlled machinery before arrival to your home for installation. You'll enjoy a unique space built to exacting detail.
SIGN UP FOR A FREE MENOMONEE FALLS ROOM ADDITION PRICE ESTIMATE!
Treat your family to a room that everyone will love with a customized room addition. To find out more about our design options and request a free price estimate, reach out by phone or through our online form. One of our creative team members can give you an in-home consultation to go over your dream room!