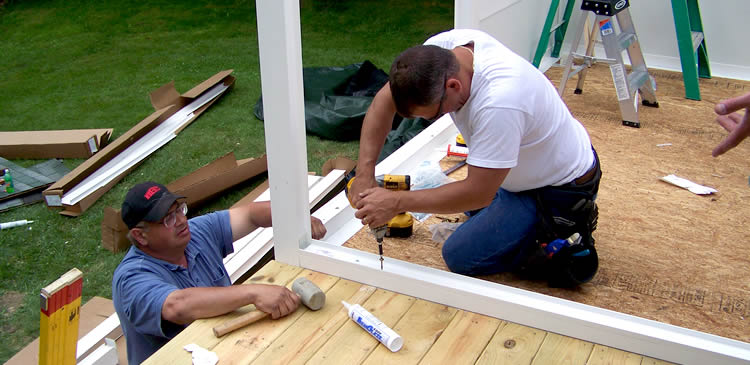 Milwaukee Four Seasons Room
MILWAUKEE FOURSEASONS ROOM
There's no doubt that a sunroom can increase your family's quality of life, but that's only if you choose the right sunroom. If you're looking for a space that your family will enjoy, no matter what the weather in Milwaukee, choose a four season sunroom from S.E. Wisconsin Sunrooms.
Our local builder from Brookfield as over 40 years of experience, and we're Top Rated on Home Advisor. We go above and beyond to design a quality Milwaukee four season room that not only looks beautiful, it's completely functional, and it will last for decades.
COUNTLESS REASONS TO CHOOSE AN ALL SEASON ROOM
It can be difficult to decide exactly what kind of sunroom would be best for your home. If you choose an all season room, you can rest easy knowing that you made the right choice.
There are many reasons why four season rooms are a good choice for every family:
Weather proof: They are specifically constructed to withstand the unpredictable weather in Milwaukee, which includes rain, hail, sleet, snow, and heavy winds.
High-quality materials: Because our all season rooms have to be able to withstand everything mother nature throws their way, they're made out of durable building materials.
Heating and cooling: Our sunrooms are sealed against the weather, which means they contain sophisticated heating and cooling systems that make them a true extension of your home.
A sunroom from S.E. Wisconsin Sunrooms is built to withstand the elements, but that doesn't mean it'll skyrocket your utility bills. We build with energy-efficient materials that reduce your impact on the environment and keep your energy costs low.
GET A FREE ESTIMATE TODAY
Planning for a Milwaukee sunroom installation means developing an affordable budget. We can help by providing you with a free estimate! Give us a call or fill out our online form and we'll show you how we can build you an affordable new room that won't break the bank.