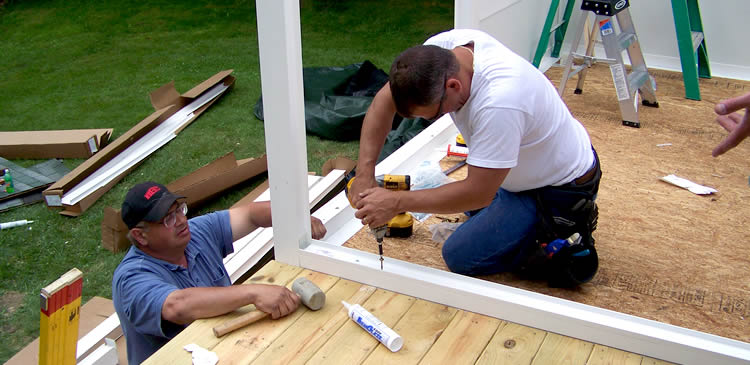 New Berlin Four Seasons Room
NEW BERLIN FOUR-SEASONS ROOM

No matter what the weather is like outdoors, you can enjoy nature from the comfort of a gorgeous four-seasons room from S.E. Wisconsin Sunrooms! Our BBB-accredited New Berlin sunroom remodeling company has decades of experience in the industry, and we take pride in setting high standards for ourselves in terms of quality work and customer service. Our team consists of experienced and skilled professionals to ensure that you will enjoy your new all-seasons room for a lifetime!
OUR SUNROOM ADDITIONS PROVIDE LIMITLESS YEAR-ROUND ENJOYMENT
When you work with S.E. Wisconsin Sunrooms to create your four-seasons room, we guarantee that your sunroom will be beautiful, functional, and last for decades. Additionally, our sunroom additions are built from energy-efficient materials to help reduce your environmental impact—and keep your energy costs low.
With numerous sunroom styles of sunrooms available, you can't go wrong with a four-seasons room! A few of the reasons that a New Berlin four-seasons room is the premier choice for any household, include:
Extreme Durability: Rain, hail, sleet, snow, and heavy winds are no match for our all-season rooms that are designed and constructed to withstand the unpredictable New Berlin weather.
High-Quality Materials: From thick foam walls and strong fiberglass frames to windows made from Low-E glass, our sunroom additions are built for a lifetime of strength.
Maximum Comfort: We can install heating and cooling systems to make your four-season room a comfortable, year-round extension of your home.
LEARN MORE ABOUT OUR NEW BERLIN FOUR-SEASON ROOMS
Don't wait another day to get the four-season room of your dreams. Reach out to S.E. Wisconsin Sunrooms to learn more about our New Berlin sunrooms! Call us today or complete our online form now to schedule a free estimate.