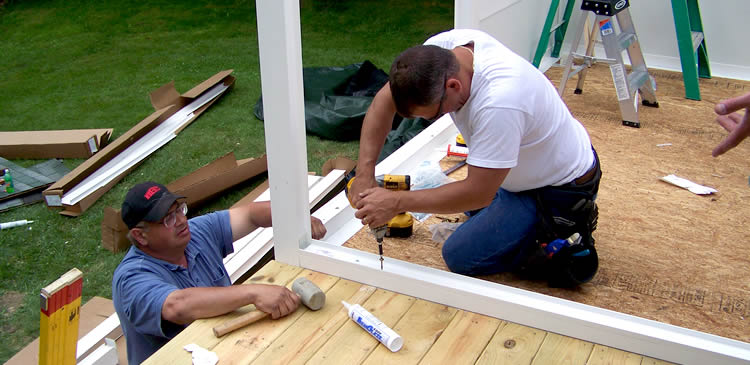 NEW BERLIN SUNROOMS
New Berlin landed high on the list of Money's Best Places to Live in 2017. Great schools, a low unemployment rate, and lots of family-friendly activities make this city a wonderful place to live and raise a family. For more than 40 years, S. E. Wisconsin has helped homeowners add value and usable square footage to their homes with our stunning New Berlin sunroom additions.
Since we did our very first job, we've been committed to providing top-rated products, expert installation, and exceptional customer service. We want our customers to be thrilled with their new sunroom—our goal is to earn 100% customer satisfaction on every job. That dedication to excellence has earned us long-standing accreditation with the Better Business Bureau and our place as a trusted New Berlin sunroom remodeling company.
STUNNING SUNROOM ADDITIONS FOR YOUR NEW BERLIN HOME
From patio enclosures to all-season rooms, we have sunroom additions to suit any home and any budget. Whether you want an eye-catching conservatory or an addition that looks like it's always been part of your home, we can help. Our selection of New Berlin sunrooms include:
Patio Enclosures
Custom Sunrooms
Cathedral Sunrooms
3-Season Rooms
All-Season Rooms
Unlike some sunrooms that take weeks to install, we can complete most additions in just a few days. Our innovative fabrication and building process is why we can finish the installations so quickly—without sacrificing quality. Each sunroom is custom fabricated based on measurements your home. We never have to try and make it fit—your sunroom will be designed specifically for you. Other impressive benefits of a sunroom from S.E. Wisconsin include:
Free Design Consultation: Since each sunroom is custom built, the design consultation is an important step. We'll look at your space, discuss how you want to use the space and then design a sunroom that you'll love for a lifetime.
Impressive Strength: Midwest snow loads are no match for our sunrooms. The hollow "hurricane header" is extremely strong and allows for larger expanses of glass and better views.
Energy Efficiency: Some homeowners worry that all that glass will greatly increase their heating and cooling costs, but high performance energy-efficient features ensure that's not the case. Features like the EcoGreen roof, deck, and walls increase energy efficiency by up to 20%.
Glass Technology: You might look at a sunroom and think, "That's a lot of windows to clean," but we use self-cleaning Neat glass. UV rays loosen dirt and water rinses it away.
LEARN MORE ABOUT OUR NEW BERLIN SUNROOMS
Enjoy your views and add usable square footage with a stylish sunroom addition. Contact our New Berlin sunroom remodeling company today to learn more and to schedule your free, no-obligation design consultation and estimate. Call S.E. Wisconsin today, or fill our online contact form to get started.