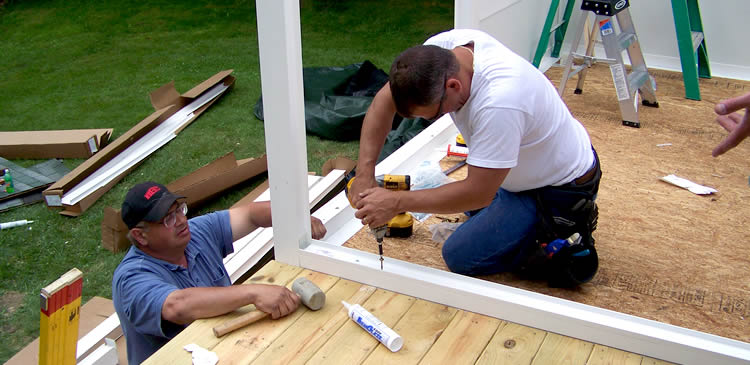 PEWAUKEE SUNROOMS
Using some of the best products the industry has to offer coupled with our years of expertise, we will build you a state-of-the-art Pewaukee sunroom the entire family can enjoy.
As a BBB-accredited business and member of the National Association of the Remodeling Industry, S.E. Wisconsin Sunrooms has installed solutions in the town of Pewaukee for years. Whether you want a chic room to host guests for Packers games or a space to relax while soaking in the beauty of nature, we have the perfect solution.
As the leading Pewaukee sunroom installation company, we have an arsenal of window, door, knee wall and roof styles for you to choose from. We'll let you take complete control of your design, allowing you to come to us with your most unique requests. We can even give your addition an integrated look, using the same siding and roofing materials as the rest of your home to make it look like part of the original construction. Some additional design options we offer include:
Lighting Accents
Ceiling Fans
Window Treatments
Phone/Internet Connections
Opaque Wall Sections
"Doggy Door" Panels
Electrical Outlets
HVAC Systems
And More!
PEWAUKEE ALL-SEASONS ROOM
We prioritize your complete satisfaction with your finished product, so we'll work with you every step of the way to ensure it turns out the way you envisioned. Our helpful staff will answer any questions and alert you of important updates as they arise. In a matter of days, they'll have your Pewaukee sunroom built and ready for you and your family's enjoyment.
All of the products we use are of the highest quality. We're a dealer of LivingSpace Sunrooms, so we have the most high-performance materials that will ensure your new addition is properly insulated. Are you worried the excessive exposure to sunlight will damage your skin and furniture? We outfit all of our windows with Low-E glass that blocks harmful UV rays, creating a safe environment for you and your belongings. We also use EcoGreen materials to build your frames and knee walls, preventing the transfer of heat and keeping the space warm in colder weather.
The Pewaukee sunroom installers at S.E. Wisconsin are eager to start your project! Call us or fill out our online form to schedule your free design consultation today!