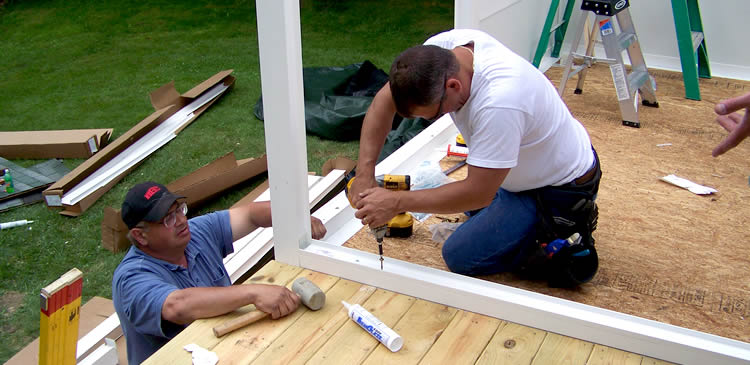 SALEM SUNROOMS
Home to several unincorporated communities, Salem is an area S.E. Wisconsin Sunrooms has served for many years. Bringing joy to a handful of its residents with incredible solutions, we've become well known for our ability to bring the outdoors indoors.
With a BBB A+ rating and a member of the National Association of the Remodeling Industry (NARI), we'll craft a high-quality Salem sunroom that will increase the value of your property and provide you with years of enjoyment.
Are you tired of people telling you how to design your own home? We don't blame you. We understand how frustrating this can be, so we allow you to completely customize your Salem sunroom to meet your needs. Providing you with a wide variety of door, window, knee wall and roof options to choose from, we'll listen to all of your unique specifications and build you an awesome home addition based off them. Some additional features you can install include:
Lighting Accents
Ceiling Fans
Window Treatments
Phone/Internet Connections
Opaque Wall Sections
"Doggy Door" Panels
Electrical Outlets
HVAC Systems
And More!
SALEM ALL-SEASONS ROOM
We'll craft your solution using only the best products on the market. Our partnerships with leading brands like Living Space Sunrooms give us access to high-performance products like energy-efficient EcoGreen materials and UV ray-blocking Low-E glass. When all is said and done, you'll be able to soak in the beauty of nature from the comfort of the indoors; any time of the year.
We put strong emphasis on customer service, so we go above and beyond to make your experience the best you've ever had. We'll start with a design consultation where you can tell us your specifications. From there, we'll draft a 3D blueprint using CAD software, giving you a 360-degree view of how your project should turn out. After that, our team will work diligently to have your Salem sunroom erected in a matter of weeks, alerting you of any important updates as they arise.
Don't let poor weather hinder your enjoyment of nature.  Bring the outdoors indoors with a beautiful Salem sunroom. Call S.E. Wisconsin Sunrooms or fill out our online form to schedule a design consultation and receive your free quote today!