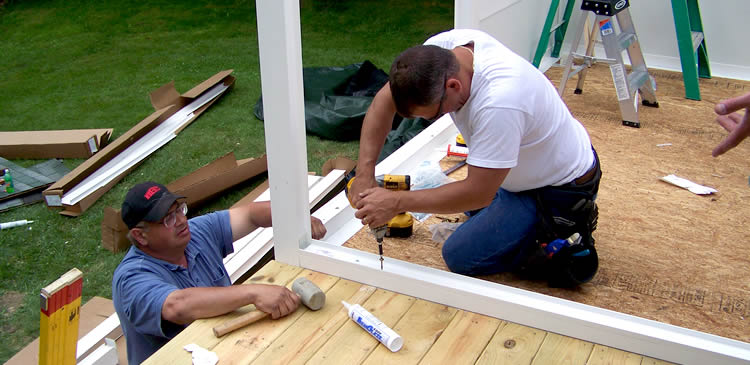 WAUKEGAN SUNROOM COMPANY
Lying on the gorgeous southwestern shore of Lake Michigan is the vibrant city of Kenosha. As the fourth largest city in Wisconsin, it has been a major service area for S.E. Wisconsin Sunrooms for over 40 years.

For over 40 years, we've been creating warm and welcoming Waukegan sunrooms for residents of the city. In that time, S.E. WI Sunrooms has earned a BBB accreditation, a trusted reputation, and the smiles of countless happy customers. We're also a proud member of the National Association of the Remodelling Industry, assuring that both you and your new addition are in the best hands.
Built with the level of care and dedication that you, yourself, put into your home, our Waukegan sunroom additions are made to stand the test of time. We've partnered with industry-leading brands to ensure that only the highest quality of products go into our 3 season rooms and patio enclosures. Well-ventilated in the summer and insulated for the winter, you can relax in your new sunroom no matter the weather.
WAUKEGAN SUNROOM BUILDER
Are you looking for a safe place to enjoy the sun while remaining protected from harmful UV rays? Or do you want to add an energy efficient room to your home and cut down utility costs? Whatever the reason for your addition, we have the right solutions for your four seasons room. Choose from our wide selection of styles and options, mixing and matching until you've created a space that perfectly fits your needs. Our custom sunrooms can include any of the following features:
Lighting Accents
Ceiling Fans
Window Treatments
Phone/Internet Connections
Opaque Wall Sections
"Doggy Door" Panels
Electrical Outlets
HVAC Systems
And More!
When you choose SE Wisconsin Sunrooms as your builder, you'll be treated to our remarkable customer service right from the start. We'll work with you through ever stage of the design process from the initial consultation to the drafting of your 3D blueprint. Once you're completely satisfied with your personalized design, we'll have our experts install your beautiful new sunroom without interrupting your day-to-day.
Ready to get started on designing your dream room? Speak with one of our specialists to learn how we can help create a custom space that's unique to your home. Call S.E. Wisconsin Sunrooms or fill out our quick and easy quote form to schedule your free consultation today!