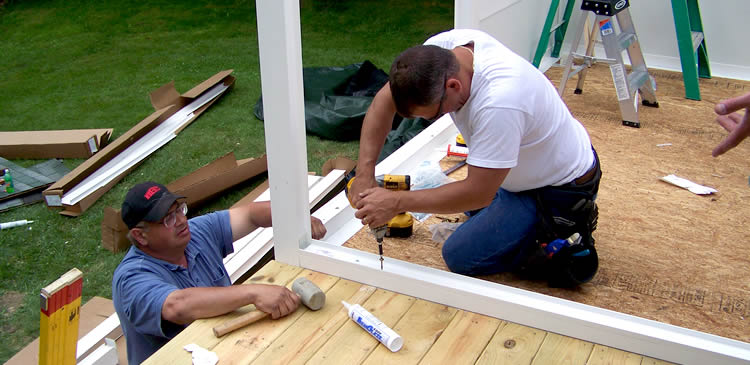 Waukesha Patio Enclosures
WAUKESHA PATIO ENCLOSURES

The summer weather creates the perfect climate for entertaining friends and family, but sometimes the sunshine can be too overwhelming. If you want to create the ideal space for comfortably enjoying the great outdoors, then you might want to consider an enclosed patio. However, you shouldn't try to build it on your own. Instead, you should hire a professional Waukesha sunroom remodeling company like S.E. Wisconsin Sunrooms. For over 40 years, we have been providing our valued customers with sunroom additions in Waukesha, so you can count on us to deliver outstanding results.
CUSTOMIZABLE PATIO ENCLOSURES IN WAUKESHA
When you come to S.E. Wisconsin Sunrooms, we strive to ensure that you are satisfied, so we give you the option to customize one of our patio enclosures completely. You can sit down with one of our talented designers at a consultation to discuss your goals and budget. From there, he or she can help you choose from all of the following customization options:
Unique lighting accents
Stylish ceiling fans
Efficient window treatments
Phone/internet connections
"Doggy Door" panels
Opaque wall sections
Convenient electrical outlets
HVAC systems
And more!
Regardless of which you choose, you can trust that our highly-trained contractors know the most efficient installation techniques to complete your project quickly without compromising the quality. In no time, you can start enjoying your one-of-a-kind patio enclosure.
LEARN MORE ABOUT OUR PATIO ENCLOSURES
Don't put off your patio enclosure project any longer. Instead, contact S.E. Wisconsin Sunrooms today to find out more about how we can help you design a stunning addition. You can call to speak with one of our experts about your ideas or fill out our online form to request a free, no-obligation project quote.