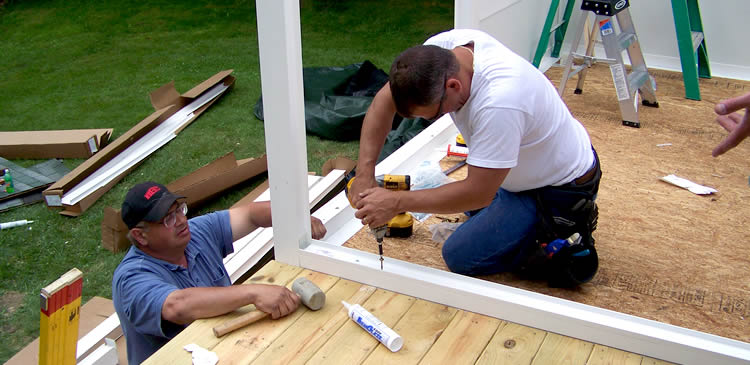 WAUKESHA ROOM ADDITIONS
We've successfully installed our unmatched solutions in the homes of many of its residents, providing them with naturally-lit spaces where they can read, work or relax while being surrounded by nature's beauty.

Many would say that a sunroom isn't a necessity, but we disagree at S.E. Wisconsin Sunrooms. When you add a room to your home, you're able to increase your square footage. The right addition can greatly increase your quality of life, and it can even increase the overall value of your home. Use your new space to catch up on a new novel, throw a dinner party, or turn it into an office that's flooded with natural sunlight.
Because we believe that everyone deserves a sunroom, we make it easy for you to create an addition that fits into your budget. Not only do we offer various discounts and deals throughout the year, you can also finance your entire project with us. That way you can budget for a monthly payment instead of draining your savings account to get the perfect sunroom for your home.
CUSTOMIZE A ROOM ADDITION
There are many Waukesha room addition designs to choose from. It's important that you take the time to choose the right one for your home.
Our experienced designers will work with you to create a custom design from the ground-up. Choose from:
All season rooms
Three season rooms
Screen enclosures
And more
It doesn't matter if you're looking for something with a modern flair or something more traditional, we'll customize the construction of your sunroom so that it melts in seamlessly with your home's existing exterior.
REQUEST A FREE PLANNING GUIDE
Planning and constructing a sunroom is a big endeavor. You want to make sure you get all the details right. We can help by providing you with a free planning guide that will walk you through the process from start to finish.
We also offer free estimates! That way you can create a budget for your new sunroom space, and stick to it. Just contact our Waukesha home remodeling company today to request your free planning guide and learn more about how we can customize an addition just for you!