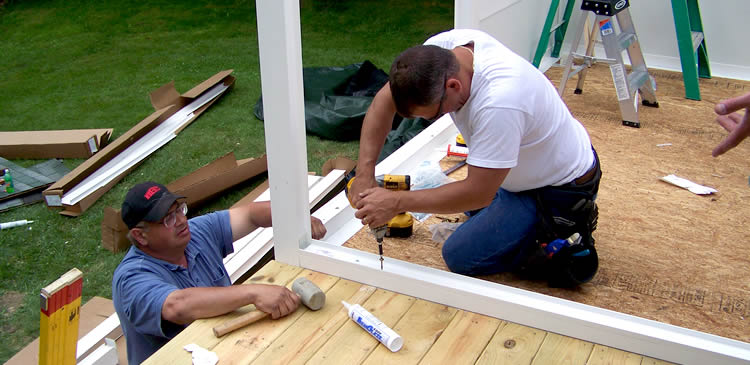 CUSTOM SUNROOMS WAUKESHA
We've successfully installed our unmatched solutions in the homes of many of its residents, providing them with naturally-lit spaces where they can read, work or relax while being surrounded by nature's beauty.

At S.E. Wisconsin Sunrooms, we've been proudly serving Waukesha homeowners for years with our durable, top-quality sunrooms. All of our Waukesha sunroom additions are carefully crafted with expert materials and installed by our rigorously trained professionals. As a first choice sunroom remodeling company, our dedication to customer service has given us an A+ rating with the BBB and made us a member of the National Association of the Remodeling Industry (NARI). We aim to quickly finish your sunroom project as unobtrusively and seamlessly as possible so that, from start to finish, you're happy with your new addition.
STUNNING, AFFORDABLE SUNROOM ADDITIONS IN WAUKESHA
As a leading installer of Waukesha sunrooms, we offer a wide selection of window, door, knee wall, and roof styles to choose from. We're dedicated to making sure your sunroom is exactly what you want to fit your needs, budget, and home. That's why we let you completely customize your sunroom addition to fit your unique needs.  And, when you choose us as your Waukesha sunroom remodeling company, you'll also be able to choose any of these additional features to install:
Lighting Accents
Ceiling Fans
Window Treatments
Phone/Internet Connections
Opaque Wall Sections
"Doggy Door" Panels
Electrical Outlets
HVAC Systems
And Much More!
Adding a stunning new sunroom to your home is a great choice to increase the value and enjoyment of your space. At S.E. Wisconsin Sunrooms, we want your sunroom to last a lifetime, which is why we exclusively use high-performance, durable products.
So what are you waiting for? Get more out of your Waukesha home – give our experts a call or fill out our online form to schedule your free quote today!