50 years of building and design experience
As the leading Southeastern Wisconsin dealer of Living Space Sunrooms, we use the most quality and high-performance products. We offer our customers unprecedented options for four-seasons rooms and patio enclosures in houses across Southeastern Wisconsin.
With 50 years of building and design experience, S.E. Wisconsin Sunrooms will quickly and efficiently develop the sunroom you've always desired. We pride ourselves installing solutions that fit perfectly into your home and lifestyle. In fact, our customers often report back to us that their new addition is the most used room in their homes!
We give you the power to customize the Milwaukee sunroom design of your new addition, allowing you to pick from a wide variety of window, door and roofing options to make it unique. Our sunrooms are great additions, providing an ideal place to work, read, relax or watch the Packers dominate their opponents on the gridiron.
What Our Customers Have to Say
Best decision we ever made! After talking with a handful of contractors Jude definitely stood out as top notch. The whole process from learning about the innovative construction technique, to putting the last shingle on the roof, was seamless and exceptional. Every work crew that came in was extremely professional, prompt, dedicated and took pride in their work. We have been enjoying our sunroom for over a year, it's our favorite room in the house and we are still in awe every time we walk in to this wonderful addition. Thank you Jude and the crews of SE Wisconsin Sunrooms for doing what you do so well. Rick and Nancy
We had an excellent experience with Jude and his crew. Jude told us how it would go and there were no negative surprises. We highly recommend this company. Love our sunroom!!
We are so glad we chose S.E. Wisconsin Sunrooms. Jude was a pleasure to work with from start to finish. He made the whole process seem effortless and was great about communicating with us along the way. Dan, Mark, Jeff, Adam, Kody and Jacob - thank you for all your hard work! You are all so talented and together you make such a good team! We also have to thank Jamie for coming in at the end and painting. It looks amazing! We enjoy our beautiful sunroom everyday and couldn't be happier with the end result. It was a pleasure working with all of you! We highly recommend S.E. Wisconsin Sunrooms.
The men that did our porch were so professional, so detailed ( right down to a missing screw that one of them came back on his day off the put in) I am so happy with my porch and I have SE Wisconsin Sunrooms to thank for it.
After much research, we chose SE Wisconsin Sunrooms to add a new sunroom to our home. They were great to work with and the process was painless from contracting to completion. The quality of construction and the beautiful design have made it the perfect addition to our house. It is our favorite room!
We had a fantastic experience with SE Wisconsin Sunrooms. From the initial quoting process through the final walkthrough we felt extremely comfortable throughout the entire process. Jude, Tony and their team were all top notch professionals and did great work. On several occasions they went above and beyond, such as when they noticed a broken panel of siding near our garage and re-used a panel of siding they had removed from where the sunroom was being installed to fix it. We love our sunroom and would highly recommend SE Wisconsin Sunrooms to anyone considering getting a sunroom.
Others have commented on the quality of materials and Jude's responsiveness ( which I totally agree with!). However, my greatest complement goes to his construction crew. All very courteous, great communicators, and the quality of their work is outstanding. I highly recommend anyone considering building a sunroom to consider SE Wisconsin Sunrooms, you will not be disappointed.
We are so pleased with our sunroom and cannot say enough about how professional and pleasant the crew from SE Wisconsin Sunrooms was throughout the process. Jude was very helpful throughout the design process. He was very honest about the long lead times and costs for the project. Once begun, the construction crew was outstanding in skill and professionalism. They went out of their way to be sure we understood the process and in addressing any concerns or questions we had. The best part of all...we LOVE our sunroom!
We can't say enough about our new 4 season room. After a year of talking to multiple companies we made the best decision by going with S.E. Wisconsin. We would highly recommend Jude and his crew. Jude went over everything with us before signing with him to make sure we had everything we wanted and needed. He kept in touch with us, so we knew what to expect and when. The crew was experienced and very professional. They were all very friendly and answered our questions. They worked well together and can tell they enjoy their jobs. It's not just a 4-season room to us, it's a remodel and extension of our home. We would definitely recommend Jude and his crew. We would give them more than 5 stars if we could. Very happy customers, Pat & Bob
5 star product, 5 star communication, and a 5 star team. Great room for enjoying a cup of coffee or a beer and watching the deer and turkey.
DEDICATION
We go above and beyond to ensure our clients are happy with their purchases, working with them every step of the way to craft their sunrooms down to the very last specified detail.
EFFICIENCY
Having your home under construction for weeks can be extremely distracting to your daily routine, so we make a point to finish your project in a matter of days and ready for years of enjoyment.
QUALITY
We'll outfit your sunroom with EcoGreen frames and knee walls to maximize its insulation. We'll also use Low-E glass that allows natural light to flow in while blocking harmful UV rays.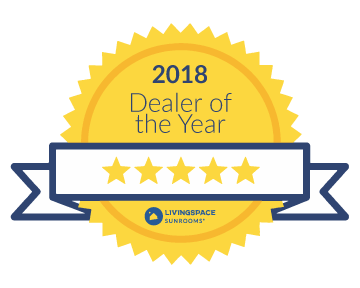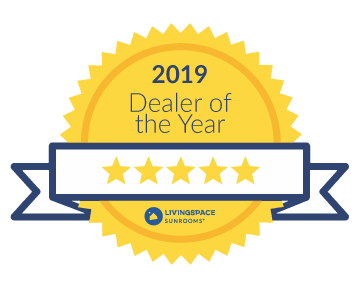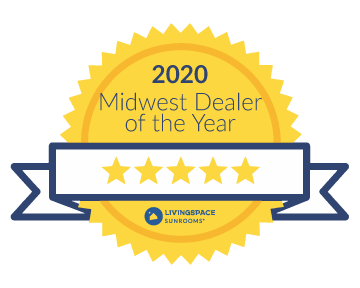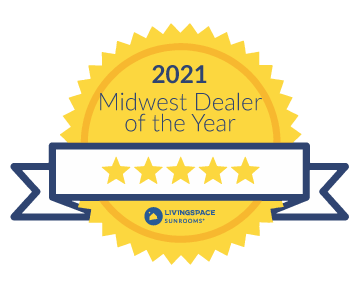 KEEPING YOUR THREE SEASON ROOM WARM IN THE WINTER
There's nothing like a beautiful sunroom addition to enhance the aesthetic appeal of your home while increasing its overall value. Sunrooms also offer homeowners with a new way to experience the property they live on, by providing them with the opportunity to enjoy the outdoors while staying safe from harsh weather conditions and other external elements.
Whether you use your sunroom to grow plants, for sunbathing, to watch rainstorms or snowfall, or to drink coffee and read the paper in the mornings, sunrooms are a type of home addition that can truly revolutionize the way you live at home.