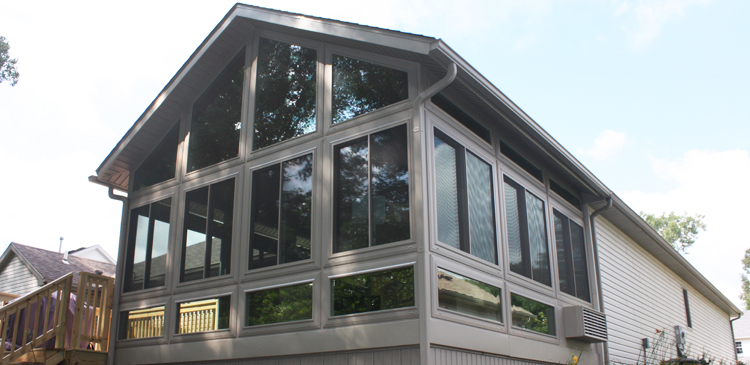 All Season/Four Season Sunrooms
Are you tired of dull rooms that only brighten with artificial lighting? Then it's time to upgrade to a beautiful All Season Sunroom from S.E. Wisconsin.
This four season sunroom solution is entirely custom designed and built to fit your specific space and complement its existing décor. With the ability to be expanded upon or upgraded, this all-seasons room will allow you to enjoy the beauty of nature from the comfort of your home for years to come.
FOUR SEASON SUNROOM INSPIRATION
Our sunrooms are second to none. See for yourself by checking out our gallery below!
Built with eco-friendly materials like high-performance fiberglass window frames and Low E glass, Elements sunrooms are among the most energy efficient on the market. Regardless of how hot or cold it is outside, this well-insulated solution will trap warm or cool air inside so you can comfortably enjoy your naturally-lit room without cranking your heating and air conditioning units.
QUALITY ALL SEASON SUNROOM BUILDER IN SOUTHEAST WISCONSIN
Our sunroom is perfect for a wide variety of applications. Whether you want to make it into an art studio so you can gaze upon the beauty of the outdoors for inspiration, or turn it into a playroom for your kids, there is a nearly endless amount of possibilities. For the football fans out there, a sunroom also makes for a great space to watch the Packers dominate the Bears with friends and family.
If you can dream it, we can build it! In addition to giving you a choice from a variety of door, window, knee wall and roofing options, we also offer the following:
Lighting Accents
Ceiling Fans
Window Treatments
Phone/Internet Connections
Opaque Wall Sections
"Doggy Door" Panels
Electrical Outlets
HVAC Systems
And More!
When choosing our skilled sunroom builders to install your all season sunroom, rest assured you made the right choice. Every member of our crew are finished carpenters. Making your room look like it was specifically designed for your house is our specialty. Our guys are the best in the business! They are professional and polite. They will remain unobtrusive to your day-to-day routine, only coming to you with important design questions and project updates.
Increase the value and beauty of your home by installing a high-quality four season sunroom today. Contact S.E. Wisconsin Sunrooms, your quality sunroom builder, to learn more about how you can benefit from our top-tier solutions. Give us a call or fill out our online form to schedule a free design consultation and receive your quote!