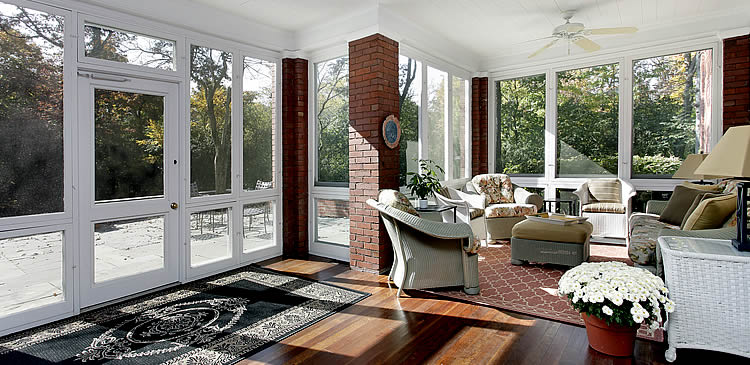 A beautiful, naturally-lit addition that will effectively trap cool and warm air.
THREE SEASON SUNROOM GALLERY
If you're considering adding a three-seasons room to your home, check out some of our past projects to gain some inspiration!
QUALITY THREE SEASONS SUNROOM BUILDER
If you're looking to add a space in your home where you can comfortably restore your connection with nature from spring through fall, a Milwaukee three-season room is the perfect sunroom addition for you. For 50 years, S.E. Wisconsin Sunrooms has been improving the value of homes building expert three-seasons room installations. As a member of the National Association of the Remodeling Industry, we hold ourselves to a high standard of quality. All of the materials we use are energy efficient and our crews are highly skilled sunroom builders, resulting in a finished product that you'll be completely satisfied with.
Using EcoGreen building systems, we'll craft your Milwaukee 3 seasons room for maximum energy efficiency. From the flooring to the insulated structure of the roof, your new addition will be equipped to enable you to comfortably enjoy the outdoors during the rainy weather of spring or the chilly breezes of fall. Additionally, all of the glass we use in our windows is made with Low E materials.
Start building your Milwaukee sunroom now! Contact S.E. Wisconsin Sunrooms to talk to one of our friendly representatives. Give us a call or fill out our online form to schedule a design consultation and receive your free quote today!
THREE-SEASONS ROOM ADDITIONS IN SOUTHEAST WISCONSIN
We only hire the most experienced and skilled professionals to install our sunrooms. Each individual is well trained in the art of installing three-seasons rooms and will quickly build your addition with incredible efficiency. They'll work diligently to not interrupt your day-to-day routine, only coming to you with important project updates.
We give you a wide selection of options when designing your three-seasons room addition. Want picture windows that will give you a full view of the great outdoors? We can install them for you. How about elegant French doors to place at your entryway? Not a problem! You'll also have you choice in roofing options, including studio, cathedral and integrated styles. Some additional design options we offer include:
Lighting Accents
Ceiling Fans
Window Treatments
Phone/Internet Connections
Opaque Wall Sections
"Doggy Door" Panels
Electrical Outlets
HVAC Systems
And More!