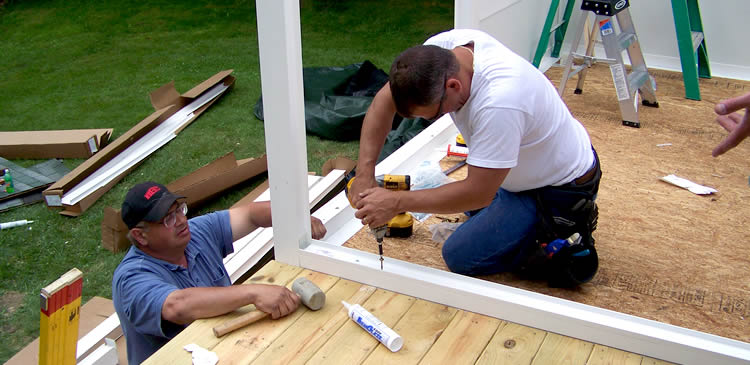 KENOSHA SUNROOM COMPANY
Lying on the gorgeous southwestern shore of Lake Michigan is the vibrant city of Kenosha. As the fourth largest city in Wisconsin, it has been a major service area for S.E. Wisconsin Sunrooms for over 40 years.
During this time, our BBB-accredited business has quickly and efficiently installed Kenosha sunrooms in the homes of many residents, providing them with  breathtaking, naturally-lit spaces where they can relax while gazing upon nature's beauty.
Being a member of the National Association of the Remodeling Industry, we're held to a high standard of quality and customer service. Because of this, we do our best to quickly and efficiently outfit our client's homes with the best products on the market. Our friendly and knowledgeable staff works with them through every step of the process, installing energy-efficient solutions to create a Kenosha sunroom that can be enjoyed year round.
KENOSHA ALL-SEASONS ROOMS
Nothing is more frustrating than an unsatisfied customer, so we go above and beyond to ensure your happiness. We make this happen by giving you full control over the design of your project. Whether you want polycarbonate roof materials to allow more sunlight in your space while trapping heat or casement windows that allow for greater ventilation, we can implement it for you. If you can dream it, we can do it; you just need to simply ask! Some additional design options we offer include:
Lighting Accents
Ceiling Fans
Window Treatments
Phone/Internet Connections
Opaque Wall Sections
"Doggy Door" Panels
Electrical Outlets
HVAC Systems
And More!
S.E. Wisconsin Sunrooms offers many styles of sunroom additions including:
Don't let unpleasant weather and pesky bugs ruin your enjoyment of the outdoors. Install a Kenosha sunroom or patio enclosure to reconnect with nature from the comfort of the indoors. Call S.E. Wisconsin Sunrooms or fill out our online form to schedule a design consultation and receive your free quote today!