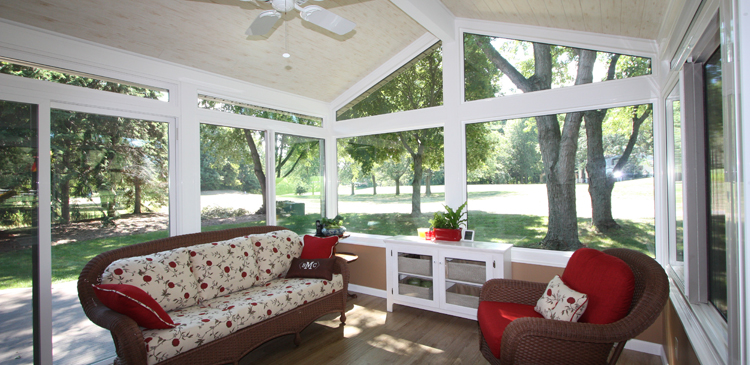 Restore your connection with nature. Install a sunroom or screen room from S.E. Wisconsin Sunrooms to bring the beauty of the outdoors to the comfort of the indoors.
Looking for a screened-in room to enjoy the beauty of nature without being pestered by bugs and unpredictable weather conditions? Install a screen room from S.E. Wisconsin Sunrooms so you can bring the great outdoors to the comfort of the indoors. For 50 years, we've effectively installed Milwaukee screen rooms in homes across Southeast Wisconsin, satisfying our customers with high-quality solutions that make for great play rooms, home offices, art studios and much more.
SCREEN ROOMS INSPIRATION
Take a look through our screen room gallery to find the design that's right for you!
When constructing your Milwaukee screen room, we'll only use the most high-quality products. We want your new home addition to bring you years of enjoyment, so we'll build it using durable screens. These screen systems are built for performance, providing up to 75 percent ventilation so your room will stay cool without the need for air conditioning. Additionally, they're outfitted with a P.E.T. pleated screen mesh that's up to 3 times more durable than other products on the market, ensuring they'll hold up in extreme conditions.
SOUTHEAST WISCONSIN SCREEN ROOMS
When building your screened porch, we'll give you control over its design. We'll let you choose between a variety of door, knee wall and roof options to help you match your new addition to your home's décor. You'll also have a choice to install any of these additional design options:
Lighting Accents
Ceiling Fans
Window Treatments
Phone/Internet Connections
Opaque Wall Sections
"Doggy Door" Panels
Electrical Outlets
HVAC Systems
And More!
From start to finish, our friendly and talented crews will work with you to ensure your Milwaukee screen patio turns out as planned. They'll sit down with you and go through a design consultation where you can tell them your exact specifications. Once a plan is set, they'll draft a 3D blueprint using CAD software and get to work on your home addition. They'll have it finished within a matter of days and alert you of important updates as they arise.
Call us or fill out our online form to get started with a free design consultation!