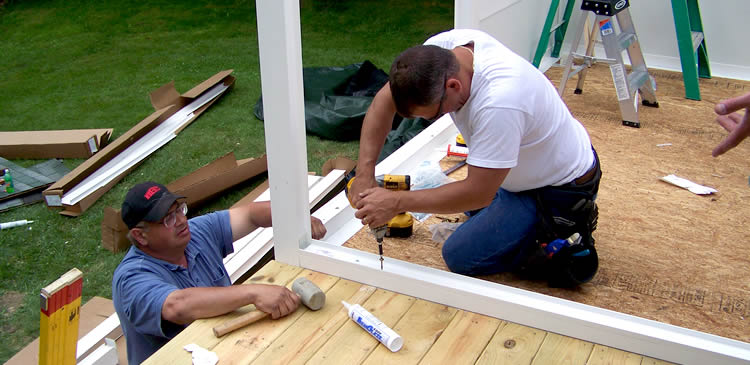 BROOKFIELD SUNROOMS
We've provided the residents of this wonderful city with gorgeous solutions that allow them to enjoy nature at full force from the comfort of their homes.

As the location of our headquarters, Brookfield has been one of our most active areas of operation. All of our products are of the highest quality and are provided by top-tier brands like Living Space Sunrooms. Using materials manufactured by these industry-leading innovators, we'll build you a Brookfield sunroom or patio enclosure that will bring you and your family years of happiness.
BROOKFIELD ALL-SEASON ROOMS
Whether you're looking for an insulated, naturally-lit space to use as an art studio, or a gorgeous room to relax in while being surrounded by the wonders of nature, our Brookfield sunrooms company will provide you with the solution you desire. We'll allow you to completely design your project so it will turn out the exact way you envisioned it. You'll have a choice in a wide variety of window, door, knee wall and roof options, allowing you to craft something that's unique to your needs. You'll also have a choice in the following features:
Lighting Accents
Ceiling Fans
Window Treatments
Phone/Internet Connections
Opaque Wall Sections
"Doggy Door" Panels
Electrical Outlets
HVAC Systems
And More!
All of the products we use are built for incredible performance and efficiency. From Low-E glass that blocks furniture-damaging UV rays to fiberglass window frames that prevent the transfer of heat, we have everything needed to make your sunroom pleasant.
You project will start with a design consultation where you'll be able to specify your exact requirements to our Brookfield sunrooms installers. From there, they'll work with you every step of the way, staying in communication and alerting you of important updates. In a matter of days, they'll have your project completed, working efficiently and not interrupting your day-to-day routine.
Increase the value of your home by bringing the outdoors indoors today! Call S.E. Wisconsin Sunrooms or fill out our online form to schedule your free design consultation. Our Brookfield sunrooms installers are eager to work with you!