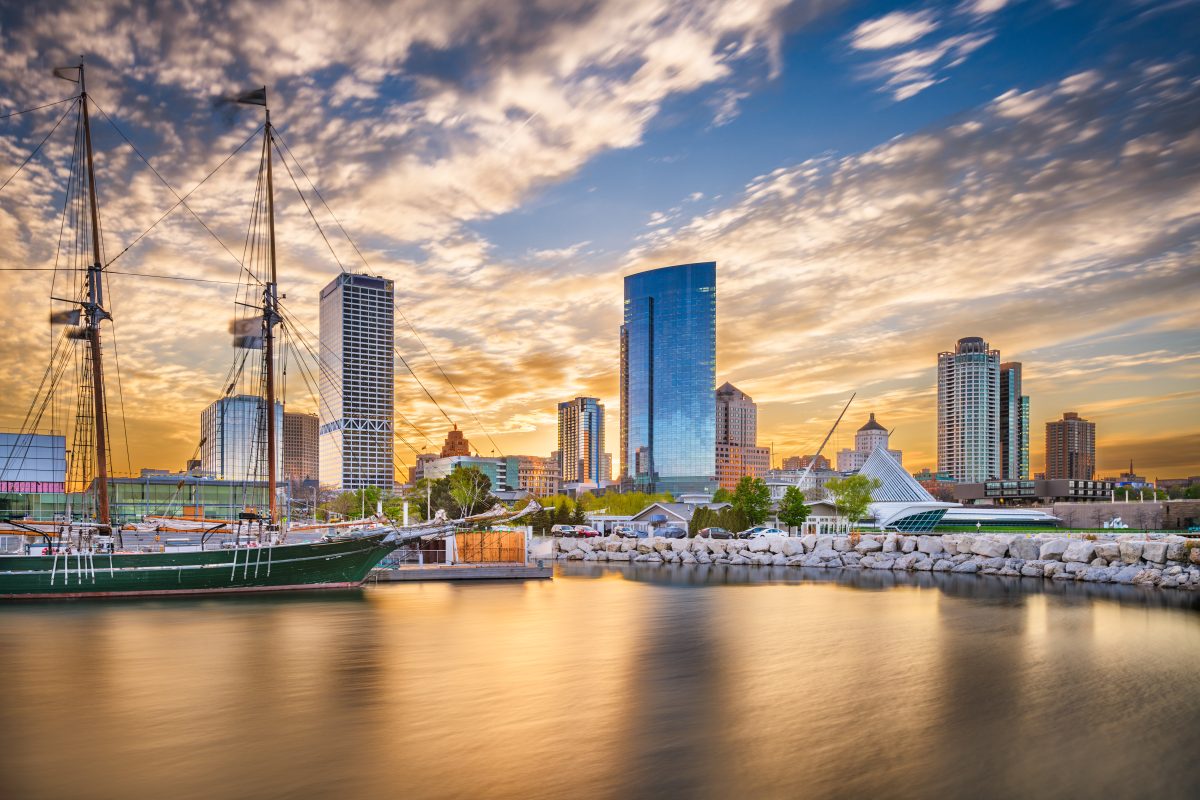 MILWAUKEE SUNROOM Contractor
For years, S.E. Wisconsin Sunrooms has provided its services to the residents of Milwaukee County, increasing the value and visual appeal of their homes with gorgeous Milwaukee sunrooms.

Being the largest city in the state of Wisconsin, Milwaukee is a thriving cultural and economic center with many great bars, restaurants and festivals to enjoy. For years, S.E. Wisconsin Sunrooms has provided its services to the residents of this municipality, increasing the value and visual appeal of their homes with gorgeous Milwaukee sunrooms. As a BBB-accredited business and a member of the National Association of the Remodeling Industry, we hold ourselves to the highest standards when it comes to quality work and customer service. All of our solutions are built to last and guaranteed to provide you with a lifetime of enjoyment.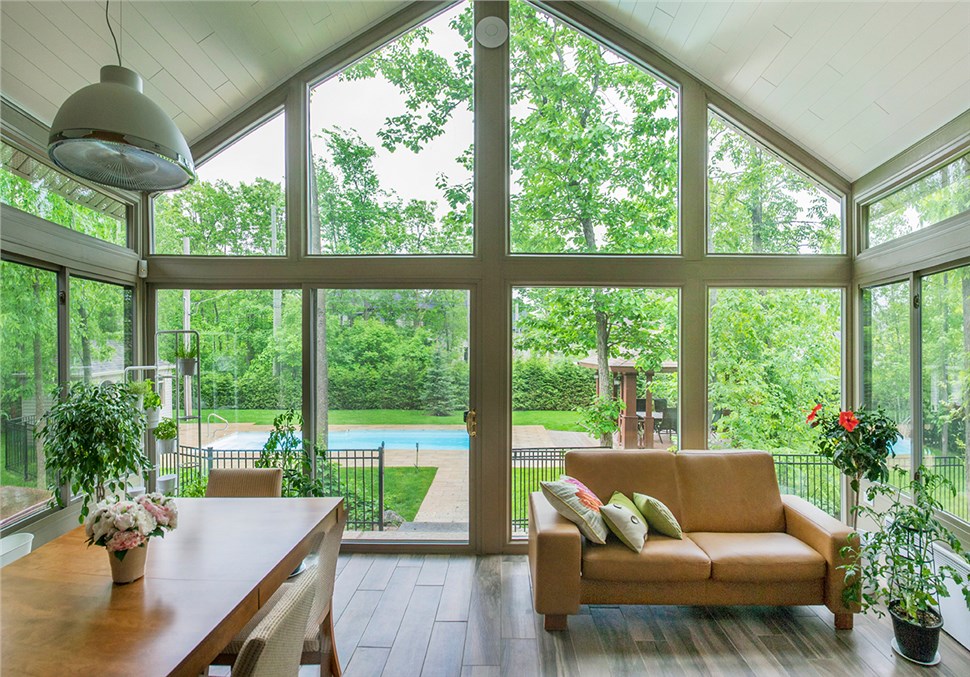 As the leading sunroom builder of Living Space Sunrooms in Southeastern Wisconsin, we only hire the most experienced and trustworthy professionals to represent our company. They'll work with you from start to finish, ensuring you're completely satisfied with your experience – from the service to the finished product. They'll kick off your project with a design consultation, draft a 3D blueprint based off your specifications and finish your Milwaukee sunroom in a matter of days.
MILWAUKEE ALL-SEASONS ROOMS
Our products are just as efficient, if not more, as our services. Using EcoGreen technologies for your frames and knee walls, we'll make your Milwaukee sunroom the most energy-efficient room in your house. Additionally, we'll use Low-E glass that allows your room to flourish with natural light while blocking damaging UV rays.
We offer a wide variety of window, door, knee wall and roof options to choose from. Want French doors to give your addition a more elegant look? No problem. How about double hung windows that provide increased ventilation and are easy to clean? Call us, your high quality Milwaukee sunrooms builder.
We also offer all of the following additional options:
Lighting Accents
Ceiling Fans
Window Treatments
Phone/Internet Connections
Opaque Wall Sections
"Doggy Door" Panels
Electrical Outlets
HVAC Systems
And More!
S.E. Wisconsin Sunrooms offers many styles of sunroom additions including:
Patio Enclosures
Custom Sunrooms
Cathedral Sunrooms
3 Season Rooms
All Season Rooms
Room Additions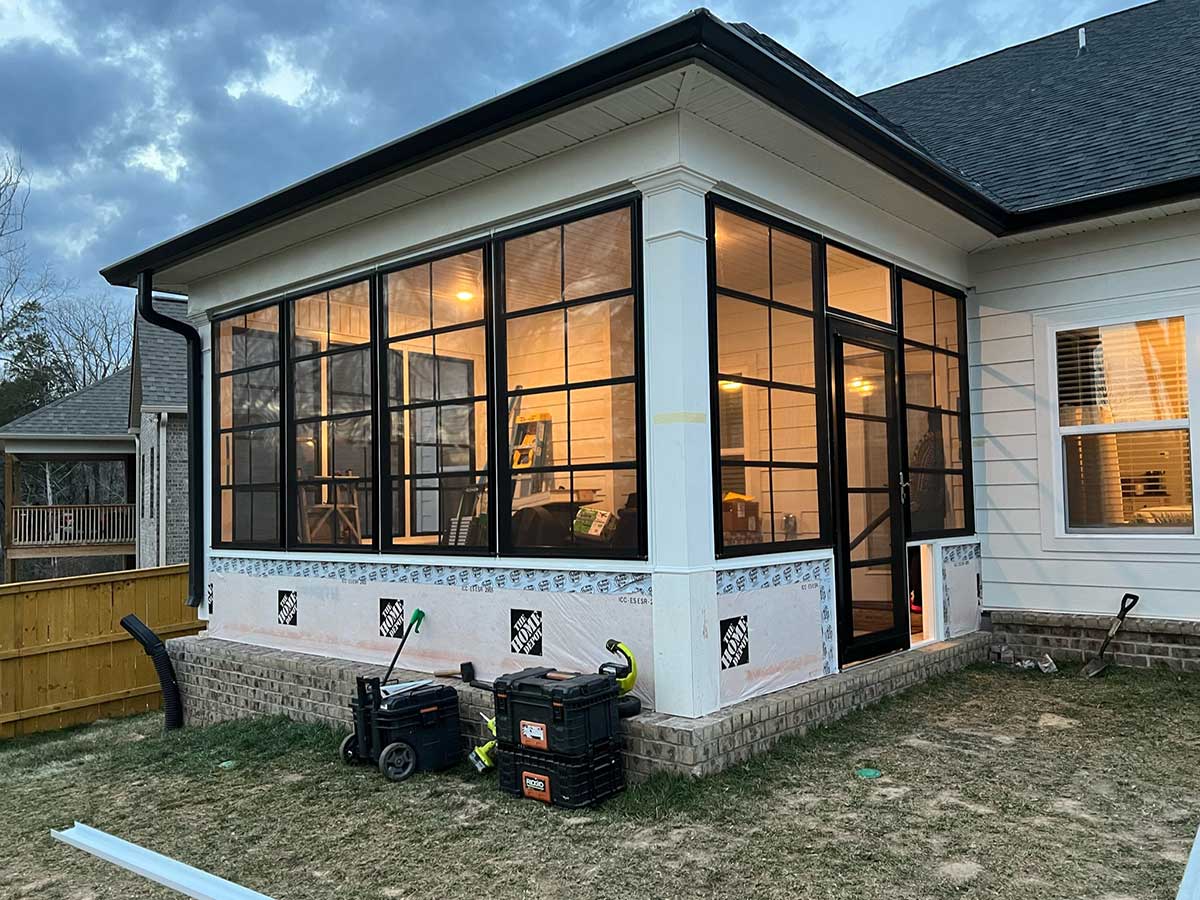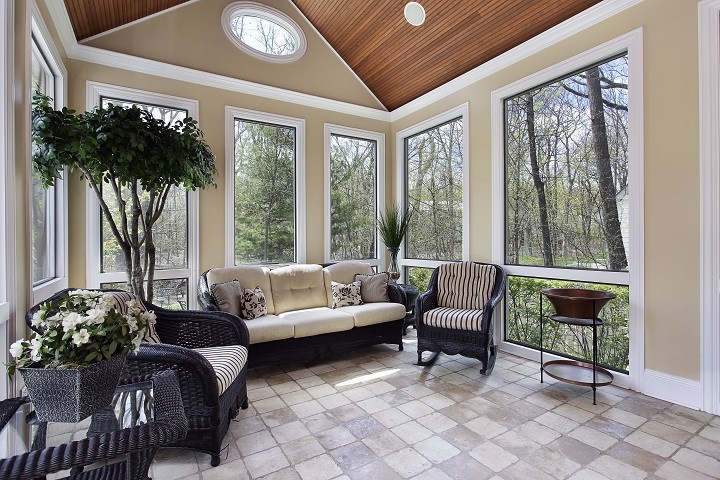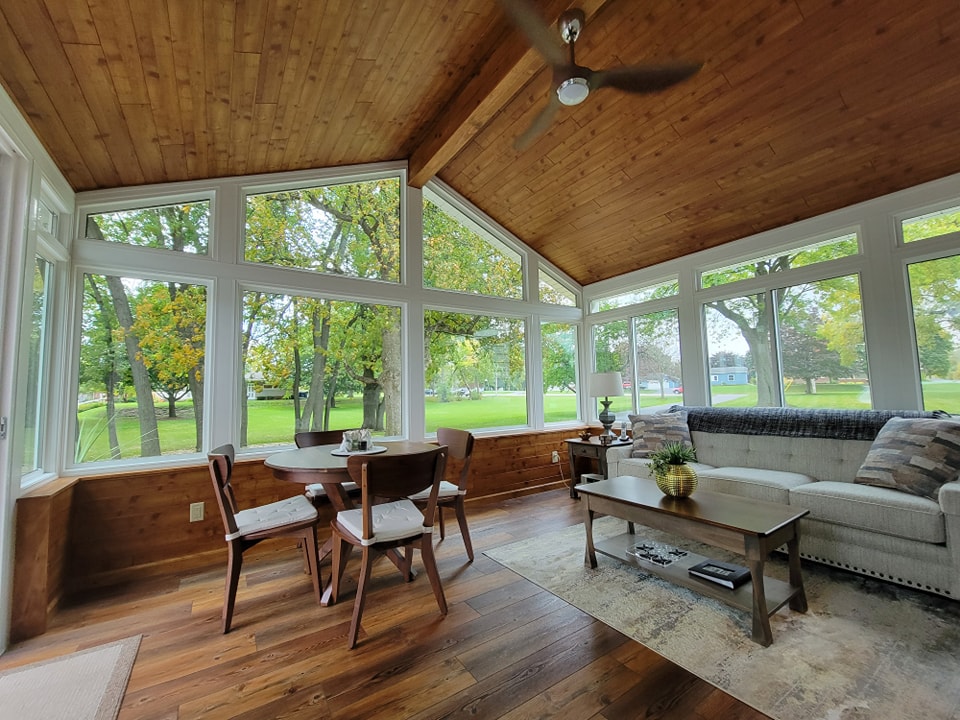 If you're itching to bring the outdoors indoors with a gorgeous Milwaukee sunroom, contact S.E. Wisconsin today. Give us a call or
fill out our online form
to schedule a free design consultation!
The Many Uses Of A Wisconsin Sunroom
A delightful addition to your home that has numerous benefits for years to come.
Short-Term Benefits:
A sunroom is the perfect solution for your tropical plants. No more carting them indoors and outdoors as the seasons change - in a sunroom addition, they can thrive year-round. And let's be honest, who doesn't love a touch of greenery in your home?
Now, onto the winter months. Want to enjoy the beauty of a Wisconsin snowstorm without having to brave the cold? A sunroom gives you the perfect space to watch the snowflakes fall while sipping on a hot cup of cocoa. With the addition of a heating and cooling system, you can enjoy the snowy scenery in the warmth of your own home.
And let's not forget about those pesky bugs. With a sunroom addition on your house, you can soak up the sun without having to worry about any unwanted guests. You are free to enjoy food and drinks in the sun without worrying about bugs getting into it. A sunroom allows you to enjoy a bug-free oasis.
Long-Term Benefits:
Now, onto the long-term benefits of a sunroom addition. First up: home value. A sunroom is a fantastic way to increase the value of your property. It's a unique and custom feature that sets your home apart from others on the market, and it's a great selling point for potential buyers.
But a sunroom isn't just for show - it's highly functional addition to your home too. It makes the perfect home office location giving you a bright and airy space to work in. It also is a great space for gatherings with family and friends. Lastly, it is the perfect space to cozy up with your favorite book, watch your favorite shows, or relax all with a view.
Finally, a sunroom is a blast to decorate, especially in the winter months. Think cozy blankets, twinkling lights, and all the holiday decorations your heart desires. It's basically a Pinterest board come to life in your own home.
So there you have it, - the numerous benefits of a sunroom. From practical to whimsical, it's a space that will bring joy and functionality to your home for years to come. Contact us today for a quote for the sunroom addition of your dreams!